light.o.002.b.01.040
€80.80

x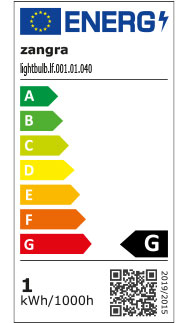 ZANGRA SAYS
TECHNICAL DESCRIPTION
ASSOCIATED PRODUCTS
Zangra's string lights are connectable together end-to-end.

Cord Length: 10 meters
Including 10 PCS E27 0,5W LED filament light bulbs in glass, not in plastic.
For indoor and outdoor usage. IP44.
Manufactured with HVV-F 2*0.75 mm2
0.9 meter spacing between sockets
Do not exceed 1680W all sets combined


What does the IP value mean on a light fitting?
All light fittings are classified according to their IP value. These IP values (International Protection or Ingress Protection) indicate the degree of protection of the light fitting against dust and moisture. The IP value consists of two digits: the first digit indicates the level of protection against dust; the second, the level of protection against moisture. The higher the IP value, the higher the protection. Check this diagram to see the different existing IP values.

What does IP44 mean?
IP44 means that this lamp is protected against:
4 : a solid object greater than 1mm.
4 : water splashes from all directions.
Indoor: rated for installation in bathroom zones 2 and 3.
Outdoor: suitable for outdoor use if correctly installed in zone 3 and 4 (see zone diagrams in the gallery).
See our damp-rated lights for bathroom section for more information.


Colour
Black
Cable length
10 m
Marking
CE
Lamp holder type
E27
Light bulb type
10 x E27
Wattage
10 x 1 W - max 10 x 15 W
Voltage
250 V
Frequency
~ 50/60 Hz
Protection marking
IP44
Safety class
Class 2
Dimmable
no
Protection's indice