x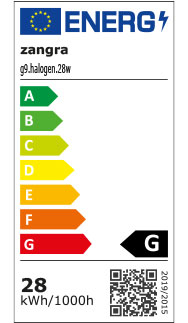 ZANGRA SAYS
TECHNICAL DESCRIPTION
Two pieces.


What is a G9 light bulb?
A G9 light bulb looks like a small capsule and has two pins spaced 9mm apart (hence the 9 in its name). This base is also called mini Bi-Pin. G9 light bulbs are very small and can therefore be used in small light fixtures. G9 bulbs simply operate on 230V; you can therefore connect them directly to the electrical network. A light bulb with a G9 base must be placed on a light fixture with a G9 fitting. This type of light bulb is simply inserted by pushing the two pins into the socket and is therefore very easy to install.
Here you will find examples of G9 42 W and G9 28 W bulbs.
| | |
| --- | --- |
| SKU | g9.halogen.28w |
| EAN code | 5415249001285 |
| Height | 4,2 cm |
| Width | 1,4 cm |
| Marking | CE |
| Lamp holder type | G9 |
| Wattage | 28 W |
| Lumen | 369 |
| Kelvin | 2700 K |
| Voltage | 240 V |
| Dimmable | yes |
| Colour temperature | warm white light |
| Life span | 2000 h |
| Number of circuits | 8000 on/off |