E27 dimmable filament LED light bulb - silver and clear glass - 2700K - 4W
lightbulb.lf.001.13.200
€47.09

x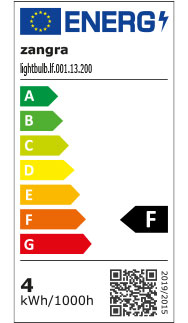 ZANGRA SAYS
TECHNICAL DESCRIPTION
ASSOCIATED PRODUCTS
Do not throw away this light bulb when it is no longer working!
This ZANGRA light bulb is specially designed in three different parts. When the light bulb is no longer working, the glass globe can be unscrewed and only the LED inside needs to be replaced. These LEDs can be found "here".
You don't have to throw the whole light bulb in the rubbish, which saves you a lot of money!
See "here" how to test if the LED is broken.

Please note that these bulbs may have imperfections such as scratches and/or spots!


What does E27 mean?
E27 stands for the type of the fitting of a lamp. E27 stands for a 27 mm diameter thread. It's also known as the Edison thread. So you always have to put an E27 light bulb in a fixture with an E27 fitting. E27 is the standard in England and most European countries.
The early light bulbs (remember them?) had a similar screw thread.
Be careful though, because there are also countries where E26 bulbs are the norm (for example in the United States).
If you would like to know which standard applies in your country, check out this page.
Check out here the complete collection of E27 light bulbs by zangra.

| | |
| --- | --- |
| SKU | lightbulb.lf.001.13.200 |
| EAN code | 5415249034818 |
| Material | Glass |
| Height | 24,5 cm |
| Diameter | Ø 20 cm |
| Designed by zangra in | 2014 |
| Marking | CE |
| Glass height | 21,5 cm |
| Lamp holder type | E27 |
| Light bulb type | LED e14 120 mm |
| Wattage | 4 W |
| Lumen | 350 |
| Kelvin | 2700 K |
| Voltage | 240 V |
| Dimmable | yes |
| Colour temperature | warm white light |
| Life span | 25000 h |
| Number of circuits | 10000 on/off |